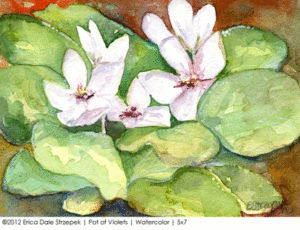 A neighbor friend of mine recently gave me a lovely pot of violets, an inspiring subject for a painter, but as I found out insightful as well.
She and her husband receive a pot of violets each time they visit their optometrist's office. She continued to explain, she'd read an article in the waiting room on things to watch for when choosing a doctor. This list included taking note of the waiting room's plants. Do they look healthy, drab, or dead? The philosophy being if the doctor's office fails to care for the plants under their supervision, what does this say about the care you will receive?
She was comforted by this observation, noting not only does their optometrist care for their plants, but they provide their patients with them. She had numerous violets about her kitchen counter and was happy to share one with me.
My original 5×7 watercolor, Pot of Violets, is available for sale from my Etsy Shop.